Learn about the lives of Ugandans from all walks of life! Please contact me to add your story.
Umeeda's last day in Uganda- Long ago far away but it could have been yesterday
Umeeda Umedaly Swilto
Aug 24 2009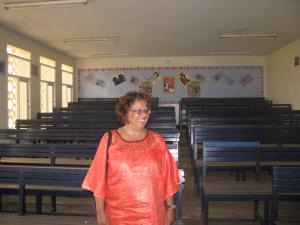 Photo: Assembly room at Aga Khan Secondary taken in 2009
I was 15 years old when I had to leave. Listen to my story abou my last day in Uganda and getting ready to travel to Oregon. I was leaving my parents, family, friends, dogs , homes with a $100 in my pocket and alone.
I left form 3 at the Aga Khan Secondary school without saying goodbye to friends and teachers.Today the school has been restored thanks to many people. They are still fundraing to continue to improve this wonderful school. Join them and make a sustainable difference!
More than 80,000 asian refugess leaving Uganda in 1972 in 90 days. Where did they go? Find out about their stories.
To add your story please contact Umeeda Umedaly at switlo@shaw.ca
All stories are welcome on MP3 format with a photo. Interview someone in your family, capture our stories of our elders and find out about why there are so resiliant.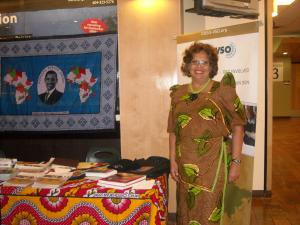 About Umeeda Umedaly Swilto
Umeeda Umedaly was amongst 80,000 people who in 1972 left Uganda as refugees.
Umeeda works with CUSO International as an outreach officer for Western Canada. She loves Africa and its people.
Umeeda had a Cuso teacher in Uganda and recently volunteered in Rwanda as a Fundraising adviser for 5 disability groups in Rwanda.
www.cusointernational.org

Click here to see the full author's profile
Recent Episodes
Shamas Umedaly wishes his first grandchild Rehanah all the best in her upcoming wedding to David
Nakasero Primary School was a very special place
The AgaKhan Seconary school Kampala Uganda. Tour Talk with Principal in 2009
The AgaKhan Seconary school Kampala Uganda. Talk with Principal in 2009
Umeeda's last day in Uganda- Long ago far away but it could have been yesterday
Mike Molloy tells us more
Mike Molloy part of the Canadian team that came to process the refugees
Lella Umedaly had hope for the future
Lella was planning to come to Canada and always wanted to live here
Lella Umedaly began her life in Africa in South Africa
Sikunder travelled to England and made Canada home
Sikunder tells us more
Sikunder Umedaly tells us more
Sikunder Umedaly lives in a peaceful place on Salt Spring Island
Sikunder Umedaly, Sylvia and their son Shameer